Rats, Ravens and Men in Black
the Stranglers Tribute CD is available now exclusively from
Amazon.co.uk
Archives
Dave Berridge Solo Album


No More Heroes frontman Dave Berridge releases his debut album on 29th April 2002. 'Let Those Without Sin Cast The First Stone' features 13 tracks penned by Dave Berridge.

Tracks listing: The Stone, Eat Me, The Killer, Open, Fire, Never Again, Eyes, Shining Like the Sun, Benny Blue, Your Favourite Friend, Back To Basics, Aftermath, The Voice of Justice.

---
Time Machine
Rob Holmes debut solo album. Click for full details





---
Adidas TV Ad' Features the Stranglers
The Stranglers provide the music to the latest UK Adidas TV Ad's. The ad' which features David Beckham amongst others, features the Stranglers 1977 track 'Peaches'. The commercial is available for download from the adidas site.
Fountain Feedback - 1st December 2001
Feedback from the Fountain gig

Victoria - Swindon 16th November 2001
Some great feedback from a truly fantastic gig! See the boys there again in a few months.
Corn Exchange - Ipswich 20th October 2001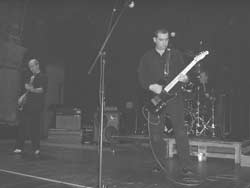 The gig of the year. As well as No More Heroes, the Jam, and Black Market Clash played tributes in 'Anarchy in the UK' at this 1000 seater venue. Full review
No More Heroes on Talk Radio
No More Heroes appeared live on Talk Radio with Lorraine Kelly. Dave and Ash from the Band took part in a live interview, phone-in and played a short acoustic version of No More Heroes. The whole interview is available for download in Real Audio format.